Click on images to read map details and size
Click on "template" to read the template source that generated the map. You can use templates as examples for requesting new maps.
---
Region: DEMO
Longitude 8 to 11 Latitude 45 to 46.5 (template)
This is the new Demonstrative map you find in the LK8000 original package. It is relative to the north Italy zone near the Como Lake. We use for demo the 250 DEM.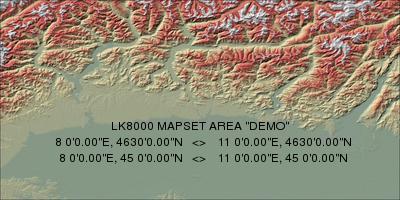 Terrain 250m DEM: DEMO_250.DEM
Terrain 500m DEM: DEMO_500.DEM
Topology: DEMO.LKM
---
This page was generated automatically by DoLKMaps on Fri Feb 17 18:46:44 CET 2017